Spectacular Sight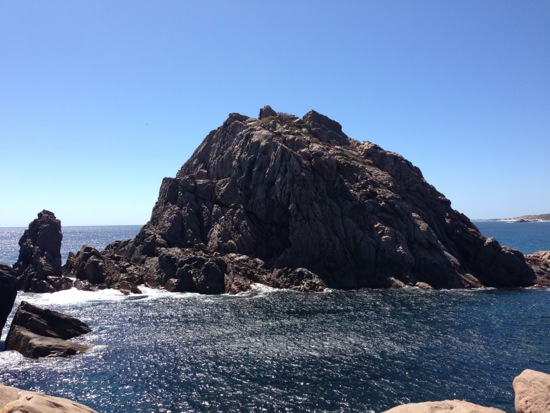 Sugarloaf Rock is one of the most spectacular sights of the northern Cape. An impressive new lookout offers amazing views of the rock and ocean, and the large carpark and facilities make it a must-see during your visit.
Visiting Sugarloaf Rock is amazing any time of year. The bold crag reaches out of the ocean baring it's spectacular points and crevasses as the ocean pounds against it.
Inspirational Location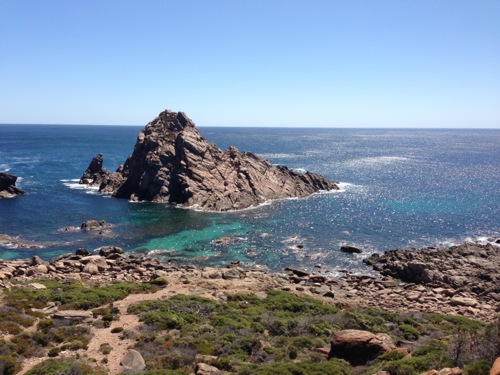 The sheer size of Sugarloaf Rock has to be experienced to be believed. If you're on your way the Cape Naturaliste Lighthouse, factor a few minutes extra into your journey and stop by for a look.
The newly resealed and landscaped carpark and toilet facilities mean you can take your time and enjoy the experience... maybe bring a picnic.
Information boards are located on the lookout with detailed information on the landscape, flora and fauna and history of this part of the coast.

Lookout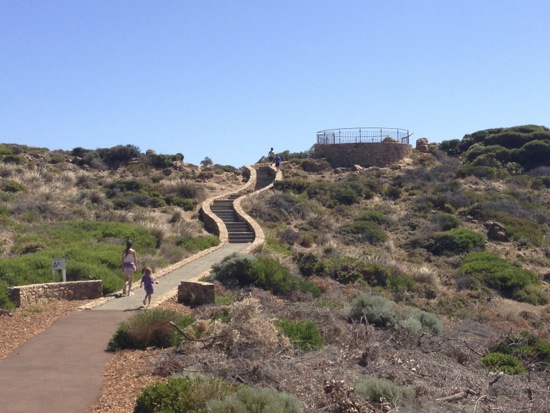 The pathway to the lookout involves a smooth ramp and a good fifty stairs (see photo). Fine for little ones, okay for elders who can climb stairs. The stairs are long and shallow, but there are quite a few of them. The lookout itself is very well presented with benches to rest and take a break.
The views are WORTH the stop, that's for sure!
Cape Naturaliste
If you look north from the lookout (or carpark) you will get a view of Cape Naturaliste Lighthouse on the northern cape shining in the distance. The view from the carpark, though not of Sugarloaf Rock itself, is also quite spectacular. Anyone not as mobile will enjoy the a lovely view while they wait for you to return from the Lookout.
Sugarloaf Rock is the first notable land feature past the Cape and can be seen from Yallingup further south along the coast.
Red-tailed Tropic Bird
One of the signposts talks of the red-tailed tropic bird, and how Sugarloaf Rock is their southern most nesting sites.
What this means for YOU is to remember that it's best to stay to the paths and not to climb out onto Sugarloaf Rock where they nest. Their nests are easily disturbed. Bring your binoculars for a closer view.
Unfortunately you should not bring your dogs. There's a 1080 warning for dogs in the national park.
Tip: If you're going to visit Sugarloaf Rock AND the Lighthouse, visit the lighthouse first as they may have limited spaces for Lighthouse Tours and you may have to return later (meanwhile, visit Sugarloaf Rock!).