Stop for a picnic surrounded by the towering Karri trees over 50 metres tall and appreciate their beauty up close and personal! The drive through the forest is amazing. The air unlike anywhere else.
New Growth Karri Forest
The 2 wheel drive track leaves and returns from Caves Road. Take Caves Road's most southern end and you will pass through the outskirts of this new growth forest, or take the Boranup Forest Drive and experience the forest close-up.
Wonderful.

Boranup Drive to Boranup Lookout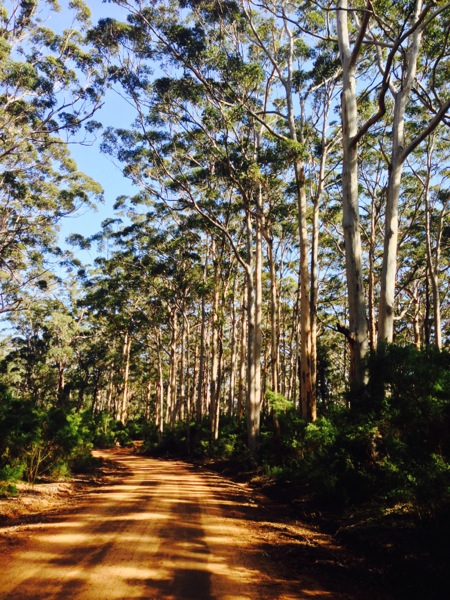 The Boranup Lookout offers stunning views of the coastline, Karri forest and Hamelin Bay.
At the Lookout you rise above the top of the forest canopy.
There are several picnic tables and a basic toilet at the Lookout.
Access to the Lookout is via a short side-road towards the southern end of the Drive.
The Boranup Drive is unsealed but well tended and can be managed by most vehicles.
The surrounding forests merge with the shore in the distance with Hamelin Bay a prominent feature of the view.
The distant hills of Augusta to the south lend a sense of scale to the scene.
Hamelin Bay is a gorgeous oceanfront location. A popular spot in summer to enjoy a swim in the Bay and a look at the remains of Jetty that was used to export timber.